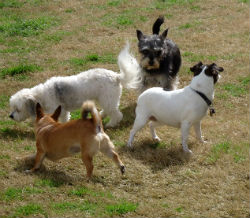 At Smith Farms even the most selective pet will enjoy their vacation. With large indoor accommodations that include their own outdoor veranda, with either a playground view or a scenic garden view, your pets can enjoy the serenity of a country retreat.
Our goal is two-fold: to give you the peace of mind that your four-legged family members are receiving the very best care while you travel and to give your pet all of the affection and attention they are used to.
Your pets are in good hands at Smith Farms Boarding Kennels! Schedule your pet's visit today!