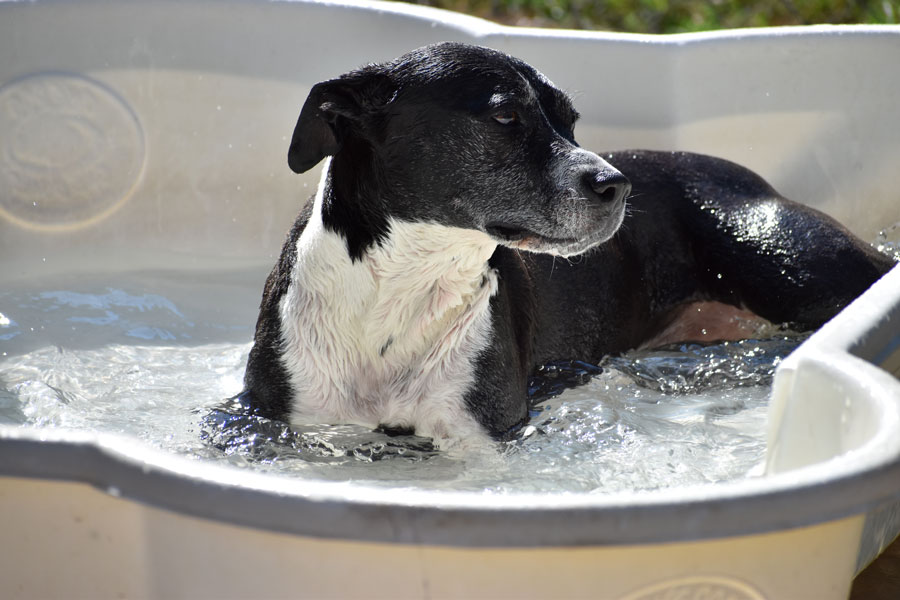 At Smith Farms we believe that both physical and mental stimulation are the key to happy dogs, so we offer community play-time three times daily. We also care for dogs that need to be kept with family or by themselves as they are loved family members too.
---
Standard Boarding Rates
Includes: Large indoor/outdoor climate controlled suite, cozy bed, three sessions of community playtime
      Checkout time is 12:00 PM. Pets picked up by noon will not be charged for that day.
1st dog: $28

2nd dog: $23

3rd dog: $18

Our community playtime can be described as a group of dogs of similar size and temperament, together in one of our many play/exercises yards. Playtime is supervised and activities can include a dip in the pool, a game of friendly chase, and lots of sniffing around.
** Please note that all dogs over the age of 5 months must be spayed/neutered. We will not accept any aggressive dogs. 
Please submit an application form ››
---
Dog Bath Rates
    Up to 25 lbs: $15

    26 to 50 lbs: $25

    51 & UP lbs: $35
Dremel Nails
Brushing & De-Shedding
    Up to 50 lbs: $10

    51 & UP lbs: $20
– Ear cleaning is included with baths.
– Dogs with long coats or thick undercoats may incur additional charges.
---
VIP Package
    Cuddle Time $5 

    Extra Playtime $5

    Leash Walk $10
---
Make a Reservation
Reservations are required for your pet's vacation, so before confirming your own travel plans, please make sure your pets have their den reserved. Please understand that reservations for spring break, summer, and holidays will need to be made several weeks in advance.
A credit card is required to hold a reservation.
We accept both credit and debit cards for payment. No other forms of payment can be accepted at this time.
We require 3-days (72 hour) notice prior to check-in for cancellation of a non-holiday reservation. Canceling within 72 hours will incur a cancellation fee.
We require notice no less than seven (7) days prior to check-in when canceling any holiday reservations, including spring break.
Reservations can be made by calling 770-918-9808 or by filling out the online form here. If you request a reservation using our online form, we will send you a confirmation email. If for some reason you do not receive a confirmation email within 48 hours, please contact us to confirm the reservation.