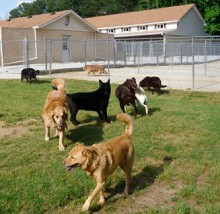 When we opened in the summer of 1999, we did so after having spent many months searching for the location that would allow us expansive outdoor space for our guests as well as on-site housing for ourselves.
We firmly believe that even the most pampered dogs enjoy sunshine, fresh air and grass between their toes.
We care for your pets with the clear understanding that each of our guests will require individual love and attention. We often describe to clients our inspiration for opening Smith Farms. She is a 15-year-old, 15 pound, mixed breed baby who honors us with her presence in our daily lives. She is only one of our 4 four-legged children that we are blessed with in our lives.
The health, well-being and happiness of our guests are always the main priority in our minds and hearts, and we'll treat your babies with the same affection and respect that we give to our own. Our facility is kept impeccably clean – with "maid" service provided every morning, and spot cleaning throughout the day as needed.
You can feel confident that your dogs are being left in a caring and clean environment.