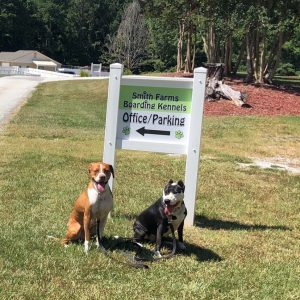 We understand that your dog is a special member of your family, so when you go on vacation, a business trip, or other out-of-town excursion, you want nothing more than to him/her along. However, that is not always a choice when you are flying, the place you are staying does not allow pets, or your schedule does not permit. So, what do you do?
Some people will inconvenience a neighbor, asking them to feed their dog and let him/her out a few times a day. While your pup would be home and fed, s/he would still be lonely with no one to love on him/her and give him/her the attention he needs. Hiring a stranger to stop by twice a day is even less ideal.
A boarding kennel is a great and affordable option to provide a "home away from home" with the care your dog needs while you are away. Smith Farms provides a large comfy area, with a fluffy raised bed, for your pup to relax and sleep in. When s/he's not resting, Smith Farms gives your furry family member plenty of love and attention so s/he won't feel lonely. We know s/he needs some outside time, so we make sure s/he gets lots of supervised exercise time in our big dog-safe play yard, where s/he can enjoy running around with other dog-friendly dogs. If your fur baby is not yet well-socialized with other dogs, one of our experienced caretakers (a/k/a dog lover) will spend lots of time playing with him one-on-one. Catch and tag and tug-of-war are some of our favorite games. We have lots of toys to engage your dog, or you can bring some of your dog's favorite items from home. If your dog loves to go for walks, we can do that, too!
When you're weighing your dog-care options, the most important considerations are keeping your dog safe and well cared for. At Smith Farms, we'll make sure that your furry family member is properly fed and hydrated and, if s/he has any special needs such as medication, you can count on our pro's to make sure s/he takes it as prescribed. We know all of the tricks!
If you would like your dog to return home fresh and clean and looking his/her best, take advantage of our professional dog washing services!
Please be sure to reserve a room for your dog as far in advance as possible and before you arrive, make sure your baby is up-to-date on his shots. For the health and safety of our other doggy guests and employees, we will not allow your dog to stay with us without proof of his up-to-date vaccines.
Give Smith Farms a call next time you are traveling. The wellbeing of your pup is what matters to us and we think it shows! (770) 918-9808. Additional charges may apply to some of the services mentioned in this article.