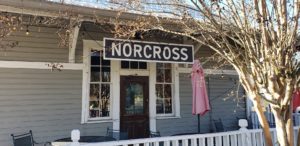 Smith Farms Boarding Kennel is conveniently located near Norcross, Georgia. For those in Norcross looking for the best dog boarding and dog training solution, Smith Farms Kennel is your top choice near Norcross, Ga.
Norcross is located in Gwinnett County. Georgia  It is the first city in Gwinnett County to be placed in the National Registry of Historic Places. The Historic Downtown Norcross Community hosted many dignitaries escaping Atlanta's busy life during the late 1800's.  Today, the city has grown to include an eclectic selection of shops and restaurants, an abundance of parks and green spaces that host summer concerts. Not far from the downtown you can shop at diverse international markets. The railroad and major interstates are in close proximity to Norcross.
At Smith Farms Boarding, we understand the worries that come with entrusting your pet to the care of others. We work hard to care for every dog perfectly and make sure they have a fun and safe experience while staying with us. Call us now to book your dog's long term boarding stay!
Dog owners of Norcross and Gwinnett County want the best short or long term dog boarding for their pets. Smith Farms Boarding Kennel is the best choice for dog boarding near Norcross and Gwinnett County.
Smith Farms offers top-quality dog training near Norcross as well.
Our dog trainers are experienced, offering  K-9 (K9) Training, Dog Behavior Modification, Dog Rehabilitation, and Socialization as part of our overall approach. Norcross dog owners may learn more about Smith Farms' dog training program on this page.